An event in February 2014.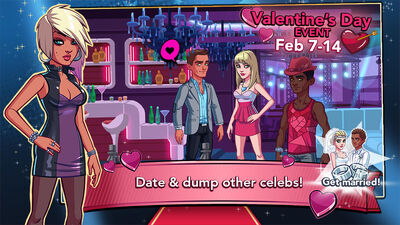 Description
The event took place on February 7, 2014 to February 14, 2014.
Love is in the air! Go on dates from Feb. 7 - Feb. 14 and collect hearts to unlock lovely Valentine's Day clothing items!
Walkthrough
Collect

hearts from any date with anyone! Collecting these heart can net you come exclusive Valentine's Day costumes and rewards.  Flirting and gifting can also get you hearts. You have until the end of Valentine's Day to collect hearts.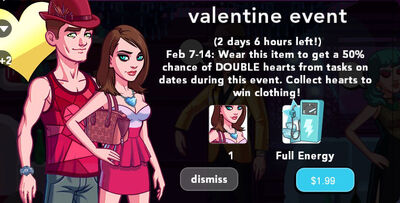 Charlene calls you and tells you about the event.  Even if you don't have her as your publicist yet, you will still get the achievement by dating.
Wearing this item will gain you 50% chance at double hearts from tasks. The item costs $1.99.
The event lastedt until the end of February 14, 2014.
Valentina's Day
Google Play players had an exclusive Valentine's Day goal, where your agent would call informing you a famous fashion designer is in town and in the spirt of Valentine's Day she was giving away clothing to the most romantic couple she spots on a date.
Completing 5 dates before the end of Valentine's Day would reward you with two items of clothing.
There was no equivalent for iOS players.
Event Rewards
You can see your progress with hearts at the bottom of your Achievements tab.
Achievement
Amount Needed
Reward
Valentine 1
200
25 5 1
Starlets

---


Stars

---

Valentine 2
450
50 1 10 2
Starlets

---


Stars

---

Valentine 3
350
100 2 25 3
Starlets

---


Stars

---
Valentina Rewards
Community content is available under
CC-BY-SA
unless otherwise noted.