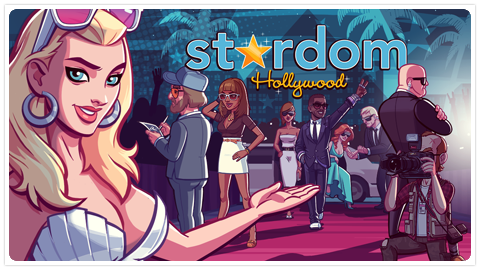 Welcome to the Stardom: Hollywood Wiki!
This is a fan-made site with no association to Glu Games Inc.
Anyone can contribute to the Stardom: Hollywood Wiki!
Learn how to at our Community Portal.

Stardom: Hollywood is a casual game created by Glu Games Inc. and Blammo Games Inc. for iOS, Android, and Mac OSX. It can be downloaded from the iOS App Store, Google Play Store, Mac App Store, and Amazon App Store for free and played on iOS 4.3+, Android 2.3+, and OSX 10.7+.
---
---
---
Stardom: Hollywood was released in February 2013 and uses the freemium business model. Although the game is free to play, players can use their iTunes or Google Play accounts to make in-game purchases of game currency to buy special items or to make the gameplay easier.
Stardom: Hollywood uses Apple, Inc.'s Game Center and Facebook to allow players to add friends to co-star with, date, or send gifts to.
FAQ
Please read our FAQ for
common Stardom questions!
Resources
Links to Aid you in the Game:

Information about Glu and Getting Involved:
Contact Requests
PLEASE USE THE "CONTACTS" PAGE FOR ADDING YOUR NAME.
DO NOT USE THE COMMENTS SECTIONS ON OTHER PAGES!
THANK YOU!
Admin Notes
This is a wiki about the Stardom: Hollywood app! Anyone can help, but please add honest information!! If you tamper with the site in any way, shape, or form, you will be blocked. ANY sort of vandalism stated in Wikia's Terms of Use will be blocked, no exceptions. We want to keep this an awesome wiki and any unacceptable or unnecessary actions or edits will not be tolerated.
Your admins,


&



Starnews
---

Version 3.6.0 - 2 July, 2014

▶ Summer styles for guys and gals!
▶ New quests from your agent and Charlene!
▶ Level 35 added
▶ Millions more fans added for A-Listers to earn
▶ Keep up with Starnews' Ray Powers on Twitter for new interviews
(@StarnewsRay)
▶ Watch out for weekend deals and promotions!

---

Want more Stardom? Check out the Stardom: The A-List App for more Stardom adventures!
---
Thanks for contributing to the wiki! :)


OneStormyNight

Samurai Pizza Cat
Featured Film
---
"

The Big Screen

You'll see! I'm going to be big!

I still am big; it's the pictures that got small!

"

— Supercool Studio 

Polls and Voting
---
Who is your agent?