An event in March 2014.
Description
The event took place on March 10, 2014 to March 17, 2014 for iOS and March 11, 2014 to March 18, 2014 for Android.
Collect shamrocks on dates and projects from March 10 - 17/ 11 - 18 to win clothing prizes! (level 7+)
Walkthrough
Collect shamrocks on dates and projects! Collecting these shamrocks can net you some exclusive St. Patrick's Day costumes and rewards.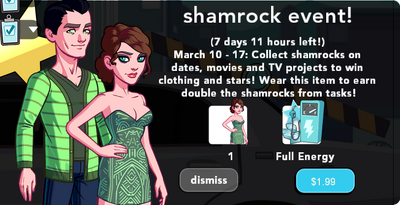 Charlene calls you and tells you about the event.  Even if you don't have her as your publicist yet or you never got her call, you will still get the achievement by dating or doing projects.
Wearing this item will gain you double the shamrocks from tasks. The item costs $1.99.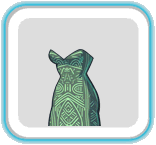 The event lasted until the end of March 17, 2014 or March 18, 2014.

NOTE: There is a crashing glitch if you scroll down the achievements. A ticket has been submit and hopefully the issue will be addressed as soon as possible.
Event Rewards
One
energy you use will award you one

shamrock. If you are wearing the special item you will earn Two

shamrocks per
energy point.
If you get 5 Stars on any project, you will gain bonus

shamrocks. The bonus shamrocks correspond to the length of the filming time (i.e. 24 hour project will give you 24 bonus shamrocks).
You can see your progress with shamrocks at the bottom of your Achievements tab.
Achievement
Amount Needed
Reward
Patty 1
500
50 25 1
Starlets

---


Stars

---

Patty 2
950
100 1 50 2
Starlets

---


Stars

---
Community content is available under
CC-BY-SA
unless otherwise noted.