An event in October 2013.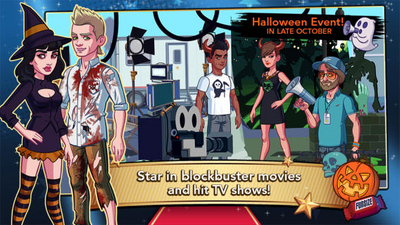 Description
The event took place on October 25, 2013 to October 31, 2013.
Halloween is coming! Join in the fun later in October to collect Halloween props while on set to win limited-time clothing, costumes, and stars! (level 5+)
Walkthrough
According to your agent, whenever you do a task for a film or TV project, you'll be awarded 1 of 3 different Halloween movie props.
Collecting these props can net you come exclusive Halloween costumes and stars. Receiving 5 stars will earn you bonus props, so get those 5 stars on ANY project!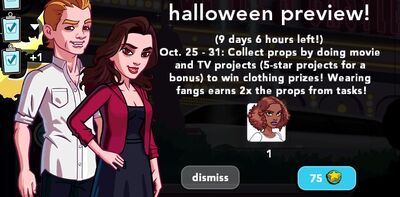 Your agent will also aid you with your quest to get props by having you film for two horror directors, Frederick J. Krueger and Annabelle P. Wilkes at Supercool Studios. Although their projects don't pay much, you will receive extra props from doing them.
Wearing the fangs will gain you double the props.
The event will last up until November 1, 2013.
Props
---
One
energy you use will award you
one
prop. If you are wearing the fangs, you will gain
two
props per
one
energy. The

candy is the most common prop and the
skulls are the more rarer prop to obtain.
If you get 5 Stars on any project, you will gain bonus props. The bonus props correspond to the length of the filming time (i.e. 24 hour project will give you 24 bonus props).
You can see your progress with props at the bottom of your Achievements tab.
Prop
Amount Needed
Reward
400
10 1 5 2
Starlets

---


Stars

---

420
100 2 15 3
Starlets

---


Stars

---

260
1000 3 25 5
Starlets

---


Stars

---
Related Goals
---
Characters
---
Community content is available under
CC-BY-SA
unless otherwise noted.