Energy is what is used to perform any actions. You only get a limited amount at a time, and your energy meter gets fuller as you level up. You are also able to gain more energy over your limit if you receive energy from a source other than regeneration time.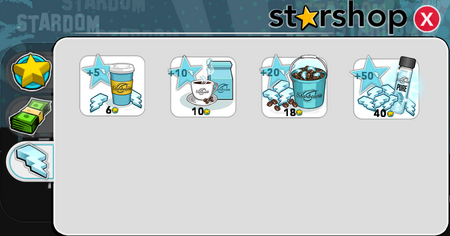 Acquiring EnergyEdit
Wait for your energy to regenerate
Tap on pets or your husband/wife
Tap on random objects in the street
Buy energy with stars from from the Starshop
Tap on rewards from actions to shorten energy regeneration time. One reward cuts 5 seconds.
Energy Level CapsEdit
| Level | Energy |
| --- | --- |
| 1 | 15 |
| 2 | 16 |
| 3 | 17 |
| 4 | 18 |
| 5 | 19 |
| 6 | 20 |
| 7 | 21 |
| 8 | 22 |
| 9 | 23 |
| 10 | 24 |
| 11 | 25 |
| 12 | 26 |
| 13 | 27 |
| 14 | 28 |
| 15 | 29 |
| 16 | 30 |
| 17 | 31 |
| 18 | 32 |
| 19 | 33 |
| 20 | 34 |
| 21 | 34 |
| 22 | 34 |
| 23 | 34 |
| 24 | 34 |
| 25 | 34 |
| 26 | 34 |
| 27 | 34 |
| 28 | 34 |
| 29 | 34 |
| 30 | 34 |